The Meaning of Digital Transformation
Digital Transformation is defined as the process of aligning enterprise technology to user needs and business processes in ways that advance organizational culture and performance.

Regardless of your role or industry, chances are you've heard the term digital transformation mentioned a lot lately. It's the promise of every software solution and a frequent headline in publications aimed at the C-suite. But what does it actually mean? Or look like in practice?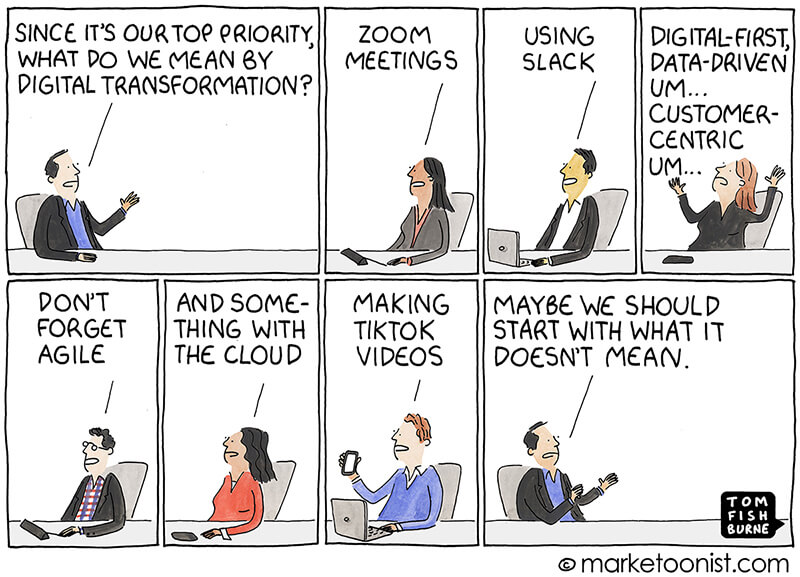 One thing we can say for certain is that digital transformation is not synonymous with introducing new technology to the organization. Anyone who has been part of a failed technology rollout can tell you that transformation—at least positive transformation—did not take place. In fact, many highly successful digital transformation efforts focus solely on making better use of, or even trimming down, technology already in use.
So where does that leave us with a definition? If you're looking for a simple starting point, we've provided the definition we use below (and it changes regularly). But to make it your own, please read on for an overview of what we consider to be the core elements of digital transformation. By thinking more deeply about each of these elements, you'll be able to come up with a unique definition that fits perfectly with your organization's culture and context.
The Core Elements of Digital Transformation
At Ideal State, we think a lot about the true meaning of digital transformation. We see it as an actionable set of considerations for how technology is used in any size or type of organization.
The elements listed below are intended to help you think about what digital transformation means, or can mean, to your organization, and ultimately to help shape your digital transformation strategy. This is a great thought exercise you can do in the early stages of considering a new technology-related project, either alone or with your collaborators. You may even want to brainstorm ways in which the envisioned project checks the boxes using a virtual or real, live whiteboard. Then you'll be one step closer to achieving the "ideal state" 😊 when it comes to your organization's use of technology.


Purposeful
Technology that you deploy within your organization should be in service to the organizational values, mission, and strategies it supports. First, start with what the organization is trying to accomplish, internally and externally, and examine the ways in which technology could speed progress toward desired goals and outcomes. That is where your digital transformation journey should begin.


Human-Centered
To determine exactly how technology could better support your organization's goals and desired outcomes, deeply explore the human side of the equation. How is technology helping or hindering people's work? What could be done to increase productivity and, even more importantly, the overall quality of the employee experience? Freeing up staff time spent on routine tasks that could be automated, for instance, could unlock tremendous value for the organization while increasing worker happiness. Put another way, it's about honoring and creating space for what's uniquely human, while tasking machines with what they do best.

Responsive and Resilient
Organizations, and the world at large, are not static entities changing at predictable intervals. They are living, constantly evolving, and highly complex systems that often change and morph in surprising ways (COVID-19 is but one recent example). No technology has an infinite lifespan, but platforms can be selected and configured in ways that are designed to nimbly weather and respond to change rather than break down or require intensive investments every time an adjustment is needed. If you feel constrained or "stuck" because of your current technology, you've already lost your competitive edge. It's time to make the leap.
Communicating effectively about digital transformation and what it means to your organization is the most important first step you can take as a digital transformation leader. Developing your organization's very own definition is also a great way to get potential collaborators, champions, and gatekeepers on board and engaged at the beginning of your journey.
Hold a visioning session or lunchtime brainstorm. Have fun with it and start generating excitement about what's possible. And most importantly, set a collaborative and inclusive tone that will carry throughout the digital transformation process. Even if the digital transformation project is still more dream than reality, you'll be able to kick off a round of important conversations that can lead to a considered "go" or "no go" decision.
---
About Ideal State
Ideal State is a digital transformation consulting and advisory firm founded in 2016. We believe that anyone, from any department, can lead a successful digital transformation project.