Digital transformation is not just about technology. It's about the processes that propel an organization forward and most importantly, the people that make it all happen.
That's where being human-centered comes in. Involving people as co-designers of your digital transformation strategy will ensure it hits all the right notes.
A Human-Centered Approach is Key to Digital Transformation
Executing a digital transformation strategy for your organization can be an exciting but risky undertaking. Getting it wrong can result in sunk resources, lost productivity, low morale, and a loss of trust in the organization's ability to execute projects of this scale. Taking a human-centered approach helps mitigate many (but not all) of the risks that can contribute to the project going sideways.
In any digital transformation, you're dealing with three key ingredients: business processes, technology, and people. Each of these areas should be given relatively equal consideration, yet it's often the people who get overlooked. By involving end-users as co-designers from the beginning, you're solving pain points and challenges that real people face in your organization while paving the way for a smoother transition to new ways of working.
A human-centered digital transformation approach has the added benefit of helping gather buy-in and shared understandings around expected outcomes. According to a McKinsey report on change management, "to feel comfortable about change and to carry it out with enthusiasm, people must understand the role of their actions in the unfolding drama of the company's fortunes and believe that it is worthwhile for them to play a part."
Asking for user input on the change that needs to be made through interviews, focus groups, surveys, ethnography, co-creation workshops, and other tools for gaining insight helps people see where they fit into the long-term vision.
Popularized by the design firm IDEO, human-centered design involves an iterative problem-solving approach built on four key principles:
1. Solve the "right" problem
Before getting to the work of designing a new approach, product, or service, you have to understand the root problem you're working to solve. Often when we see a problem to fix, our limited experience points us to symptoms of a much larger issue, and we miss the real challenge that needs to be addressed. Finding and fixing the root problem by conducting research and talking to real end-users ensures that you spend time and resources wisely.
2. Focus on the people
Our society tends to be solution-focused. What technology will we use? What will the product look and feel like? But without thinking of all the people who will be impacted by the solution, our designs end up flawed from the start. How many products can you think of that have flopped or been scrapped because people choose not to, or truly can't, use them? Throughout the design process, it's critical to consider the people you are designing for and listen to their needs.
3. Consider the entire system
You cannot design solutions in a vacuum. Every part of the user experience is interconnected, especially when it comes to the modern enterprise. Focusing on just one system or business process, such as timekeeping or onboarding, may solve one problem while generating two or three more. Instead, as you define and design your solutions, always keep the big picture in mind. How do these changes impact other components of the system, and how can the net effect be a positive one? This will help guide you toward a future state in which the overall employee experience has improved.
4. Iterate and validate design decisions
No designer gets it right the first time (and by employing this process, you are a designer!). You will be working with imperfect or incomplete information as you work to bring human insights into the process. The most effective and efficient approach for creating a workable end product includes ideating and prototyping a variety of solutions (in this context, solutions are the different actions and changes that could result from a digital transformation effort), and "testing" or validating them with the people who will ultimately benefit.
Above all, it is important to remember that you, as the lead architect of the envisioned change, are not the same as the people you're co-designing with. Nothing can replace reviewing and validating your solutions with many others to gain insights about what works, what doesn't, and what needs to be tweaked or redesigned.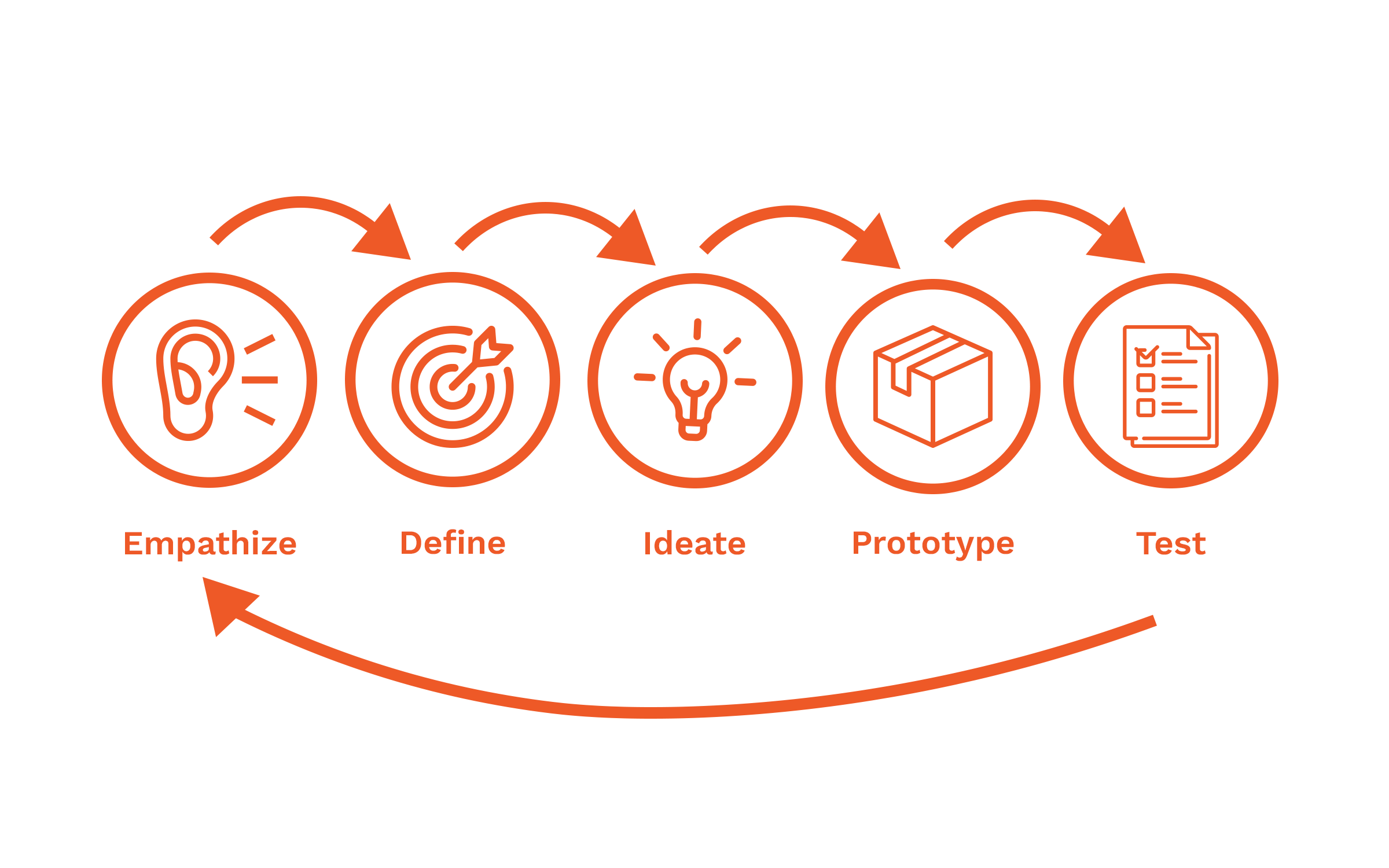 The iterative and cyclical process of human-centered design
---