When most of us think of an intranet, we think of a lifeless place where content goes to die. We generally are looking for something specific and we get in and get out as quickly as possible. Meanwhile, all the "action", the juicy collaboration and the chats are happening on about a dozen different tools. One team is using Slack, another Dropbox, and yet another Chatter.
While all of these tools are great, using so many of them creates a real problem: fragmentation. When everyone is on their own platform and they don't talk to each other, how can you effectively share knowledge, or find someone with a particular expertise?
Think of a social intranet as the foundation of your digital workplace. This workplace will bring the entire organization into one virtual environment. A social intranet will create the feeling of a cohesive organization by bridging gaps between the field and HQ and between departments. This workplace will serve to create visibility and search-ability to all staff and content that the organization produces. It can do this because the social intranet provides a delightful user experience that encourages adoption, and at the same time, is passively capturing all discussions and content that are created and shared.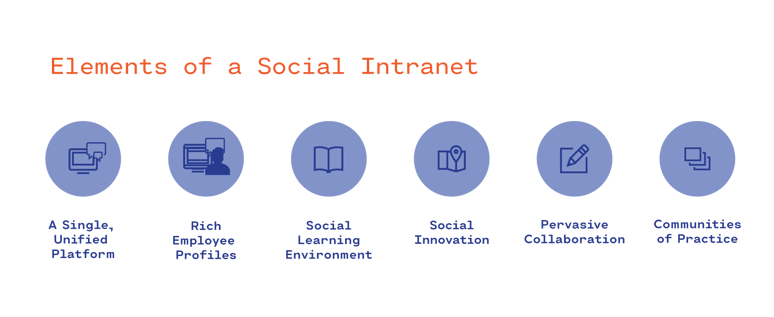 The most important feature of a social intranet is that it is people-centered. All content, discussions, places, and notifications should be personalized based on a user's professional profile and where they sit in the organization. The end goal is a dramatic increase in staff awareness of information, content and expertise critical to their role.
What is needed is an enterprise social intranet with the full complement of collaboration and social features that can provide a framework for balancing ease-of-sharing with full privacy and security. A well-designed social intranet will contain the chaos of fragmentation, and begin to create that sense of community within our organizations we all are looking for.
If you're considering implementing a social intranet, remember the words of Eero Saarinen:
"Always design a thing by considering it in its next larger context - a chair in a room, a room in a house, a house in an environment, and an environment in a city plan." -Eero Saarinen
Ideal State would add - design a social intranet by considering how it fits inside your digital workplace. If you're curious about digital workplace design, check out our webinar!