PROJECT DURATION: Less than one year
Ideal State designed a friendly and adaptable digital workplace for the AB InBev Foundation that can evolve to support the young organization's growing project portfolio.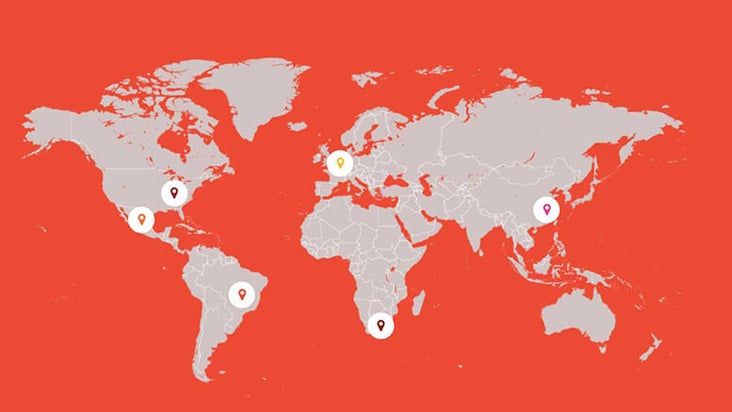 The Challenge
Select and implement a suite of best-in-class digital workplace tools for a small but growing foundation to seamlessly connect staff around the world and streamline collaboration with the Foundation's hundreds of external partners.
The Starting Point
With a bold mission and a talented but lean staff, the AB InBev Foundation was off to a strong start after its founding in 2017. The Foundation operates as an independent nonprofit organization that receives financial support from the AB (Anheuser-Busch) InBev company, a global beer brewer operating in 50 countries.
As the Foundation spun up systems and developed workflows to expedite their important projects, digital tools inevitably began to multiply. In a short time, staff members went from not having the right tools to having an abundance of often overlapping functionality at their disposal. Confusion mounted about which tools to use.

The Foundation's small size did not support or warrant a dedicated IT resource, leaving them with no one to actively configure or manage their systems, train staff, or troubleshoot. In this DIY environment, some succeeded in mastering their new tools while others reverted to using non-sanctioned tools they knew and liked from past roles. This created major rifts and confusion among the Foundation's geographically dispersed staff, none of whom were using the same mix of systems.

As operations expanded, challenges around internal collaboration were also beginning to spill over into interactions with partners. Added layers of complexity to perform simple tasks like hosting virtual meetings and sharing documents left staff, partners, and board members frustrated and eager to remedy what they saw as a growing vulnerability. Confident that there must be a better way, Foundation leaders engaged Ideal State to support a complete redesign of their digital workplace to establish a common toolset that would deliver results now and well into the future.
Our Work
Listening and Learning
Ideal State consultants led Foundation staff through a series of hands-on workshops to surface challenges about current systems and to learn what staff aspired to accomplish with their redesigned digital workplace. Staff also participated in individual interviews to walk through their daily workflows and the pain points they were experiencing along the way.

It quickly became clear that staff wanted to feel more connected to one another. With most team members working remotely, some as far away as South Africa and China, they craved a sense of community. All-staff calls were the only opportunity to connect as a team and poor audio quality created a frustrating experience. Outside of these calls, there were no other channels for real-time discussions, whether for work or more informal chats.

Confusing document management systems made it difficult to securely share content with external stakeholders. Some inside the organizations were becoming concerned that stakeholders might equate a lack of easy access to content with a lack of transparency on the part of the Foundation, which was not at all what staff intended.

Every staff member emphasized that their future digital workplace needed to be simple. With little to no IT capacity, the team had no room for tools requiring time-intensive management or training.

After listening to these and other requirements, Ideal State produced a visual future-state map of the AB InBev Foundation's new digital workplace. Coupled with this was a set of specific recommendations around system selection and configuration that would simplify and modernize the Foundation's digital workplace—and at a substantially reduced cost compared to their current set of tools! Nearly all of the tools selected qualified for a nonprofit discount, which made this new toolset attainable for a small foundation where every dollar counts.

After Ideal State shared our discovery findings and recommendations, staff commented that they felt heard and validated—their pain was real and the organization was taking action to address it.
Let the Transformation Begin
The path to a modern digital workplace required consolidation, reconfiguration, and updates to existing core systems for managing content, projects, and communication. Each tool selected had to be cloud-based, mobile-friendly, and able to function as an integrated part of a seamless digital workplace experience. A real-time communication platform was positioned as the "glue" that would hold the entire digital workplace experience together and serve as a water cooler-style gathering place for the Foundation's all-remote staff to interact throughout the day, both for work and fun.
Given the Foundation's limited IT capacity, Ideal State also implemented a single sign-on (SSO) utility for one-stop, secure access to all of the Foundation's official applications using a single login. In addition to secure and simple logins, the SSO tool provided staff with a friendly dashboard supporting one-click access to all of their official applications. SSO also greatly simplified the staff on- and off-boarding process by allowing an administrator to securely add or remove users from all applications from within a single interface, a feature that is sure to prove useful as the organization grows.
Equipping Users to Get the Most From Their Tools
Ideal State-supported AB InBev Foundation staff every step of the way in transitioning to their new digital workplace. Following Ideal State's high-touch, in-depth change management process, Ideal State consultants hosted all-staff informational sessions previewing the new tools and inviting questions and feedback in the lead up to the official launch of the new digital workplace.
Launch day featured a session outlining the purpose of each new tool and live demonstrations showing off key features of the new systems and how they work together. In the weeks leading up to launch, staff had been supported to move their content from a variety of existing systems (including people's desktops!) into the new cloud document management system. Ideal State provided live coaching and on-call support throughout the migration process to make sure everything went smoothly. All sessions were accompanied by concise, printable quick start guides and session recordings that people could refer back to when needed.

Once Foundation staff had a few days to dive into their new systems, Ideal State followed up with a series of 30-minute deep-dive sessions on each new tool. These live sessions, recordings of which were shared immediately after, showed off some of the deeper functionality of each system and provided staff with an opportunity to ask questions and get more familiar with their new tools. As an added benefit, the Foundation now has a library of information-packed videos and guides, made just for them, for all of their new systems. These will come in handy as new staff members join the Foundation, helping to get them up and running quickly on the Foundation's ultra-modern, streamlined digital workplace.
The Outcome
The AB InBev Foundation team is now the proud owner of a well-designed, cost-efficient, and easy-to-use digital toolset that is already vastly improving how work gets done. Even the skeptics among them admit that staff morale is better than ever, leaving their talented staff reenergized to carry out the Foundation's important mission.

Organization
AB InBev Foundation
Mission
To reduce harmful drinking globally by identifying effective, evidence-based programs and policies for public-private partnerships to advance positive social and behavior change.
Headquarters
Washington, D.C.