Project Duration: Ongoing
Ideal State teamed up with W.K. Kellogg Foundation and other prominent organizations to launch a hosted Slack community for people working to accelerate positive change around the world.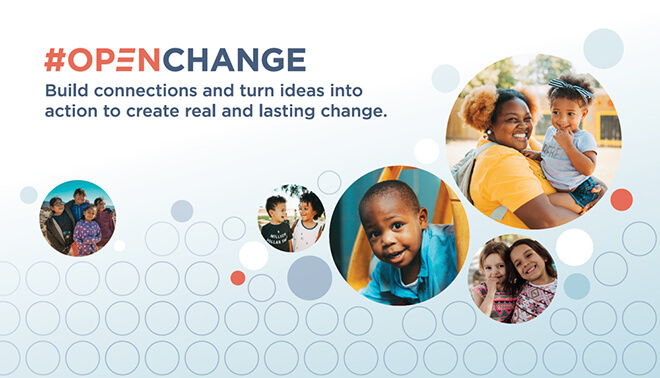 The Challenge
Create a streamlined process and set of tools that changemakers can use to quickly engage and activate their networks online.
The Starting Point
One of the largest and well-known philanthropies in the world, the W.K. Kellogg Foundation, applies principles of racial equity, community engagement, and leadership to everything they do to help vulnerable children achieve success. They refer to this as their DNA.
When their visionary leaders saw an opportunity to share and scale the foundation's DNA approach using the power of online community, they turned to longtime digital transformation partner, Ideal State, to dream up a simple but impactful strategy for mobilizing changemakers using the popular online collaboration tool, Slack. The community was given the name #OpenChange, linking it in spirit to the many open-source technology initiatives that have led to rapid innovation cycles fueled by borderless collaboration.
#OpenChange is a global online community of people from nonprofits, philanthropy, government, and academia working toward achieving the UN's Sustainable Development Goals (SDGs). With a motto to "Work Together, Better," the community operates under the belief that collective action is the key to solving some of the world's most intractable problems and creating real and lasting change.
Bringing #OpenChange to Life
With extensive experience building and hosting online communities, Ideal State sought a simple and intuitive off-the-shelf technology solution to power #OpenChange. User research on more customized and complex online community platforms indicated that people preferred a simplified set of features and functionality that closely resemble what they use in their day-to-day work. Simplicity plus adequate social and work functionality were the highest priorities and Slack delivered on all of these requirements.
Ideal State designed the members-only #OpenChange Slack community as a mix of private and open "channels," places for members to engage in conversation and exchange resources. Group leaders and conveners can use private, invite-only channels to convene their networks and communities of practice ranging from 10 to more than 1000 members. Open channels moderated by Ideal State #OpenChange hosts give all #OpenChange members a place to connect with and learn from a diverse array of changemakers outside of their immediate circles. Discussions in open channels feature news, resources, and announcements relevant to the social sector, as well as opportunities for members of #OpenChange to showcase their projects and initiatives.
Equipping Changemakers to Successfully Launch and Lead Online
As a digital transformation partner to the social sector, Ideal State helps changemakers use technology as a tool for advancing social good. With the launch of #OpenChange, the firm saw an opportunity to make using technology, in this case, Slack, so streamlined that it would provide a frictionless entry point for online collaboration, even among those unfamiliar with Slack or similar tools. This was especially important when the community coincidentally launched just as COVID-19 began shutting down all manner of in-person interactions across the globe.
Ideal State drew best practices from its design thinking, knowledge management, and change management toolboxes to create the online #OpenChange Toolkit. This rich resource includes step-by-step instructions and easy-to-use templates to plan and launch a private channel on #OpenChange. Also included are a variety of strategies and methods for growing and sustaining member activity and engagement over time. The goal throughout was simplicity. Private channels can be planned and launched in as little as one week, with ongoing management taking the same or less time than regular member engagement over email.
The Toolkit guides users through assembling the key ingredients that lead to successful online collaboration. Namely, a clear purpose, useful activities and practical outputs, and shared value generation. Online groups also require active leadership and a variety of champions, "Channel Leads" and "Channel Guides" in #OpenChange terms, to keep activities and discussions moving forward.
In addition to the #OpenChange Toolkit, all people leading private #OpenChange channels receive ongoing support and guidance from #OpenChange community hosts. These Ideal State team members provide personalized one-on-one support to help successfully plan and launch a private channel on #OpenChange as well as ongoing coaching to help leads sustain member engagement over time. Hosts also offer group and one-on-one training to all members who are new to Slack and provide live support in a dedicated #help channel.
Adjusting to New Realities
When the COVID-19 pandemic began its race around the globe in early 2020, groups everywhere were forced to cancel in-person meetings and events. People already planning their #OpenChange channels were met with a new set of challenges and even greater urgency around bringing their conversations and collaboration fully online.
Ideal State quickly adjusted its approach so that an #OpenChange channel could launch in a matter of days, versus the previous timeframe of up to four weeks. Channel leads have been quick to embrace the expedited launch process. One group took just over a week to plan and launch its channel; another launched successfully in just under two weeks.
Gaining Momentum
Less than six months from its official launch, more than 500 changemakers are already using #OpenChange to support their work. The community's multi-lingual user interface and translation features have made it possible to support conversations in multiple languages. Both English and Spanish channels are currently active, with channels in other languages expected to come online soon. Additionally, any post can be instantly translated by a user into more than 100 languages using an integrated translation app.
Here are a few examples of the exciting work #OpenChange is currently supporting:
Knowledge management (KM) advocates working across philanthropy engage in regular discussions on a range of topics relating to KM practice. Each discussion culminates in a webinar featuring panelists from the channel and a shareable "knowledge product" that summarizes the discussion and associated resources.
Nonprofits working to support families and children across Detroit use their channel to share and discuss timely news and resources and support each other as a community of practitioners.
Nonprofits working to support families and children in the Chipias and Peninsula-Yucatán regions of Mexico share and catalog COVID-19 news and resources in real-time.
A community of evaluators working across philanthropy is discussing ways to create opportunities for equitable learning within their foundations and with grantees and partners.
A global community of disaster risk reduction professionals is using their channel as a forum to collaborate and innovate on their efforts to support partners in preparing for, responding to, and recovering from disasters, including the COVID-19 pandemic.
Ideal State and its partners look forward to the continued growth of the #OpenChange community as additional programs and initiatives use it to collaborate and communicate more effectively online. We're all one community working together, better for the greater good!

Organization
Various
Mission
Work together, better
Geographic Focus
Worldwide
People Served
1500