Ideal State worked with the Cystic Fibrosis Foundation to implement a modern and intuitive intranet that is helping their 750+ staff across the United States work smarter, together.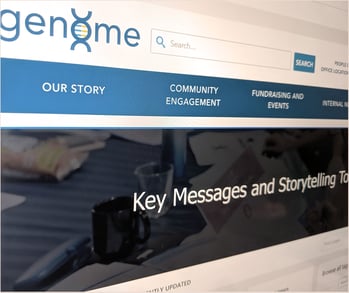 The Challenge
Build and launch a user-friendly, versatile, and beautiful intranet to bring together CFF staff from across the U.S., and provide them with the content, tools, and information they need to do their best work, all in one place.
The Starting Point
Office walls throughout the Bethesda, MD office of the Cystic Fibrosis Foundation (CFF) are emblazoned with the slogan, "We will not rest until we find a cure for all people with CF." While these words inspire staff to do their best work every day, the Foundation's outdated, clunky intranet was far short of inspiring.
With more than 75 chapter offices located throughout the United States, CFF's 750+ staff sought better ways to share critical information and tools across offices and departments. "Search that actually works" became a rallying cry among staff after years of struggle. CFF selected Ideal State as their partner in the creation of their new intranet based on our use of human-centered design and track record of building intuitive, visually appealing social intranets for mission-driven organizations.
Our Work
Understanding User Needs
CFF's new intranet needed to be dynamic and innovative while keeping up with the organization's growth and evolution over time. To fully understand the people we were designing for, Ideal State conducted participatory workshops, interviews, and focus groups with 75 staff members from across the organization. These in-person and virtual discovery sessions helped us gain a deep understanding of how staff members were collaborating and sharing information with one another, and how they were interacting with key systems, including the existing intranet. We also made use of a targeted staff survey to assess usage of the current intranet among more than 250 staff and the relative value and importance of different intranet features by user type.
The people we heard from shared their pain points as well as their hopes and suggestions for how a new intranet could make their work easier and more impactful. Key challenges that came up at this stage included not being able to easily find the most up-to-date versions of information and content and not knowing whom to reach out to with questions on a particular topic or area of activity.
Strategizing Before Building
CFF's very capable, cross-functional project team wanted to make sure that we had a fully realized and vetted concept for what the intranet should be before selecting a technology and moving forward with site development. This aligned perfectly with Ideal State's belief in having a detailed, user-driven strategy in place before any technology is considered. So we set about crafting a comprehensive strategy and roadmap for the new intranet based on what we heard during the stakeholder discovery sessions. The strategy was a start-to-finish recipe for a stellar new intranet that included use cases to be supported, site architecture and design directions, approaches to support widespread adoption and higher levels of engagement, plans for communicating about—and supporting—anticipated changes, and ways to measure the success and impact of this new work tool.
With the strategy and roadmap fully validated with stakeholders from across CFF's key business functions, we were ready to proceed with technology selection. Intranet technology is rapidly evolving and Ideal State takes its role as a technology selection partner very seriously. While we were able to narrow down the field of potential solutions based on the high-level requirements we had developed earlier, several options were still on the table. To narrow the field even further, Ideal State organized deep-dive demos with the top contenders and used those sessions to drill platform reps on CFF's most important feature and performance questions. A clear winner emerged after a thorough, practical assessment of the finalists.
Supporting the Entire Engagement Journey
The intranet design and site architecture came together beautifully after a series of user-centered design sessions. A great name for the site, "Genome", emerged as well! All that was left was to build the site and as usual, that was the easiest part.
Once the initial site was built we needed to get it in front of real users to make sure it was all systems go before the big launch. After extensive internal testing, the site was opened up to nearly 250 willing early adopters. Not only was this a great way to get feedback before the official launch, but it also helped to generate some buzz while equipping early adopters to serve as advocates during the roll-out effort.
The soft launch was an overwhelming success. A user survey revealed nearly unanimous praise of the site's design and functionality, with more than 90% of early adopters approving of the site's design and nearly 80% agreeing that the site's search capabilities were functional and user-friendly. This was music to the team's ears since design and search had been particularly painful aspects of their previous intranet experience.
While the team made additional enhancements to the site based on user feedback in preparation for the full launch, work was well underway supporting change management and user engagement.
As a change management initiative, the intranet launch required a comprehensive communications, training, and support plan. Ideal State helped with all aspects of planning and materials development, from creating an internal communications campaign to developing plans for a virtual launch party, including Genome-branded swag, for all of CFF's offices around the country. Ideal State also designed a tailored champions program including a recruitment strategy, member responsibilities, and regular engagement activities.
The Outcome
Genome successfully launched to all staff in March 2019 and now serves as a one-stop shop for everyone's information and collaboration needs. In addition to all of the rich content that can be found in Genome, staff also have one-click access to all of the other business applications they use every day. A dedicated management team, trained by Ideal State, now monitors site adoption and engagement using a custom-built dashboard that tracks everything from user visits and location to which content received the most views or likes. The team also continues to regularly engage with users to find out what can be changed or improved using the continuous improvement process Ideal State implemented when the site first went live.
CFF still has much work ahead to find a cure for cystic fibrosis, but Genome has helped make that work more efficient, connected, and enjoyable.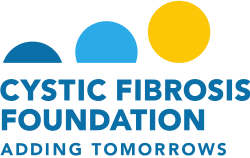 Organization
Cystic Fibrosis Foundation
Mission
To cure cystic fibrosis and to provide all people with the disease the opportunity to lead full, productive lives by funding research and drug development, promoting individualized treatment, and ensuring access to high-quality, specialized care.
Headquarters
Bethesda, MD
Employees
750+
Annual Budget
$289 million (2017)