PROJECT DURATION: Less than one year
Ideal State partnered with Stellenbosch University to design and launch a full-featured online community and engagement strategy to advance knowledge exchange and learning among Hilton Foundation grantees working in five African countries.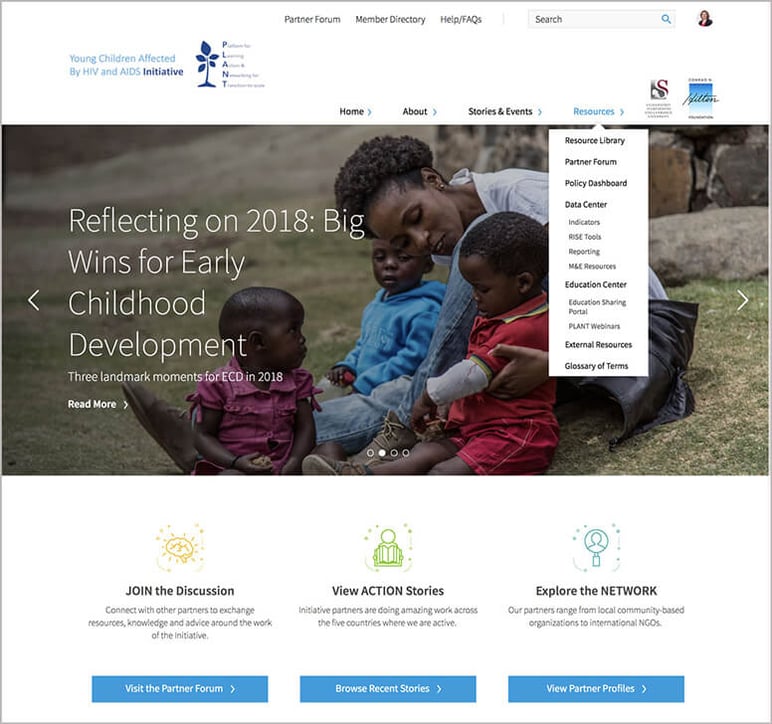 The Challenge
Design and implement a mobile-friendly online community experience that supports private collaboration and public information sharing. Make the site user-friendly and engaging for users from diverse professional backgrounds and locations.
The Starting Point
The Stellenbosch University (SU) monitoring, evaluation, and learning (MEL) team is responsible for leading the MEL component of the multi-year Hilton Foundation-supported Young Children Affected by HIV and AIDS Initiative. The initiative supports roughly 30 organizations representing large and small NGOs and community-based organizations delivering a variety of services and support for children affected by HIV and AIDS in five African countries (Kenya, Malawi, Mozambique, Tanzania, and Zambia).

SU project leaders approached Ideal State to help them envision and build a new online resource comprised of two parts: 1) a private online community for roughly 100 initiative partners to engage in learning and knowledge exchange around their Hilton-funded work and 2) a publicly accessible clearinghouse of initiative-related news and resources.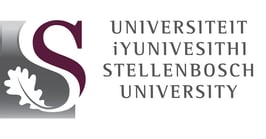 Mission
to be thought leaders in the areas of responsive, innovative and scholarly teaching and learning
Headquarters
Stellenbosch, South Africa
"

Thanks to PLANT forum for bringing us closer to what's happening around the world, in particular the updates from the Hilton convening. I feel like I was part of the team sent to represent Malawi, thanks to this great forum.

"
Community Member - Initiative Partner Organization
Our Work
Developing a Shared Vision
We first set out to understand the profiles and needs of envisioned end users of the site. Using the principles of human-centered design, we conducted several interviews and virtual focus groups to better understand how initiative partners worked together, what they lacked, and what methods they currently used to learn and collaborate with one another. We learned that some partners had already been working for more than a year on the initiative while others were just getting started. Many people had the opportunity to come together once a year during the initiative's annual in-person convening but communication and knowledge sharing opportunities between those much-anticipated events were few and far between.

The Ideal State team identified several specific use cases from these conversations that could be well supported by a full-featured online community. In addition to tools and resources to support them in their work, partners emphasized the need to take part in global discussions and communities of practice. They also emphasized the importance of being able to easily discover and get to know the other people and organizations involved in the initiative. After sharing and validating our research findings and recommendations with project leaders and prospective users, the vision for the new SU online resource was crystallized.
Finding the Right Tools
Our next task was to select the right technology. Ideal State devotes a great deal of time to keeping up with the latest tech to support online communities. But even with that level of focus, it's impossible to stay informed about every new development or feature addition. That is why we conduct a fresh technology landscape analysis and features review against our client's requirements for every project requiring a tech selection. After whittling down a list of 20 contenders to a short-list of 8, we carefully evaluated the top options and were able to confidently recommend the right technology approach to support our shared vision.
Putting Design Principles into Practice
With our platform choice complete and clearly defined use cases in hand, we began the user experience (UX) design process. We started with the site map and then drilled down into navigation and page content. We used a variety of collaborative visualization tools so that SU project leads could be actively involved in every step, despite the fact that they were more than 9,000 miles away in South Africa! Along the way, we continually validated the emerging site architecture and UX with the use cases and personas we developed earlier to ensure that the people we were designing for were our guides throughout the process.

Once our initial site prototype was complete, we invited real users to get in and try out all of the key features. Out of this exercise came several concrete recommendations that helped us arrive at the most useful and intuitive structure and design. This included updates to the taxonomy supporting search and discovery of the hundreds of high-quality resources that would be featured on the site.
It's All About Engagement
Developing a comprehensive strategy for user adoption and engagement before launch is vital to the success of an online community. For this project, we had to think about how to engage initiative partners via the logged-in site experience while also catering to other visitor types accessing the public portions of the site. We started by working with the SU team to develop a robust content strategy and training their staff on proper loading and tagging of content. Meanwhile, we developed a detailed marketing and promotion plan focused on building excitement about the soon-to-be-launched site and then sustaining and growing engagement after launch.

For initiative partners, messaging emphasized how their new community could accelerate progress toward their project goals through rapid information sharing and feedback loops with their peers. It also meant encouraging them to use the site's member directories to forge new connections with others engaged in similar work. We also developed comprehensive manuals to help site managers feel comfortable taking over the reins after launch and trained them on engagement best practices based on Ideal State's extensive experience in this area. Last but not least, we made sure there was a well-populated user help section containing FAQs on how to use the site's many features in the specific context of their work.
The Outcome
The PLANT site was successfully launched to initiative partners eight months after the project began and remains a healthy and active community. The Ideal State team is immensely proud of the management team that oversees PLANT. They continue to add to the site's growing body of publicly available resources while sparking important conversations with community members about how to best monitor and evaluate the Hilton Foundation initiative's impact, now and into the future.