Sara co-founded Ideal State in 2016 after nearly 15 years in the international health and development sector as a senior public health and knowledge management professional. She has been a featured speaker at industry conferences including KMWorld, APQC, NTEN, ad Digital Workplace Experience on the topics of digital transformation and knowledge management and holds a master of public health (MPH) degree from the University of Washington.
Sara's first social sector experience was during a stint at the Bill & Melinda Gates Foundation in the early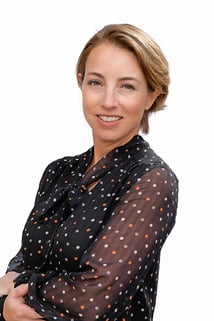 2000s where she brushed shoulders with some of the most respected minds in the worlds of health, education, and technology. Inspired by the ways in which these leaders were joining forces to dream up new strategies to solve some of the world's thorniest challenges, she decided to dive head-first into the international health field at the height of the global HIV pandemic.
A few years later, while serving as senior technical editor for the Elizabeth Glaser Pediatric AIDS Foundation (EGPAF), she discovered the practice of knowledge management (KM) and became a certified KM practitioner. Excited by the possibilities of applying KM to support learning and continuous improvement in an international NGO working in over 25 countries, Sara spearheaded EGPAF's first institutional KM program.
A perpetual internal change agent, Sara went on to lead highly successful digital transformation initiatives focused on everything from field-level data collection and analysis to global collaboration and innovation. Just prior to co-founding Ideal State, Sara served as KM Director for the international NGO, Pact, where she led a wide-ranging and highly successful effort to build a unified data management and reporting system to support all aspects of Pact's program operations including fundraising, program management, and sub-grants management.
As lead strategist for many of Ideal State's client projects, Sara blends the practices of knowledge management, human-centered design, and change management to bring a people-first orientation to every engagement.
Outside of work, Sara enjoys spending time in the great outdoors in her adopted hometown of Santa Fe, New Mexico together with her husband and co-founder, Jeremy, their young daughter, Abigail, and heeler mix rescue, Lily.