You know the saying, "be the change you want to see in the world"? If the world you're trying to create through digital transformation is one where everyone has the best and coolest tools for the job, now is your chance to lead by example.
Here is our hand-picked list of battle-tested low-code and no-code apps that are hands-down the best digital transformation tools out there. If you're leading a digital transformation project of any size, you'll likely find multiple uses for each one at every stage of your digital transformation journey.
How can you lead transformational change with second-rate digital transformation tools?
If you're reading this in the midst of a digital transformation effort, you're likely waking up each day flexing muscles you didn't even know you had. Perhaps you developing a digital transformation roadmap for your company, or maybe you're digital transformation consulting for a client. From change management and project management to human-centered design, you are—or soon will be—covering a lot of ground.

So when it comes to choosing the right tools to help you define and execute your digital transformation strategy, there's little margin for error.

Here are our top picks for battle-tested, no-code and low-code apps that will help you accomplish everything from planning that next sprint and redesigning the dusty ol' data warehouse to launching an award-worthy change communications campaign.

Airtable
Airtable, where have you been all of our lives?

Airtable does so many things well that it's hard to cover all of them here. At the simplest level, it's a way to make really kick-ass lists that look great and can function like databases. Oh, and the lists can store just about any kind of data you throw at them.

But that's just the tip of the iceberg.

Once you get your feet wet building one-to-many relationships, you can start linking "bases" (the term for a collection of data comprised of one or more tables) and adding automations. And then there's the ability to integrate with other systems via the API and a growing list of extensions that help you do all kinds of cool things with your data, like building cool visualizations and reimaging relationships in a variety of ways. Just dive in and have fun! You won't regret it.
How to use it for digital transformation
Analyzing and synthesizing stakeholder interview data
User acceptance testing (UAT)
IT system inventories
Issues management
High-level work plans
System roadmaps


Canva
Canva is one of those sleeper tools that really hit its stride in 2022. It's a must-have when it comes to creating compelling communication materials of any kind, from infographics and background images to full-blown animations. It has loads of templates you can start with, including entire finished products or individual design elements. They even have templates for video intros and other graphics to turn simple videos into something special.
How to use it for digital transformation
Explainer animations and infographics
Presentation designs
Background textures and graphics
Custom system headers and button graphics



Loom
Video is increasingly becoming the preferred way to communicate and inform inside the organization. Especially when you're trying to make it quick and enjoyable.

Enter Loom. It's just so darn easy to make videos that look great and then share them in about any way you like. Loom integrates with a lot of popular tools, making it a breeze to distribute videos on a variety of platforms. And the desktop app is always there in the background whenever creativity strikes. It also includes a simple video editing interface that's great for making quick adjustments and enhancements.
How to use it for digital transformation
Training videos
All-staff announcements
User testimonials and promos
Read the Ultimate Guide to Digital Transformation Strategy 2023

Lucidchart
Lucidchart has been a solid offering for years now and it's slowly but surely getting better. It still shines brightly in certain areas where other, newer tools like Miro don't quite fit the bill. When it comes to highly technical diagrams to design or redesign complex systems built on platforms like AWS or Azure, Lucidchart has you covered with specific templates and graphics.
But even if you're less of a techie, LucidChart has some great functionality for diagramming of any kind. We especially like how easy and satisfying it is to link elements together with lines and then adjust them in a whole variety of ways. It's also got some cool functionality for building out hierarchies like websites and org charts.
How to use it for digital transformation
System maps
Information architecture diagramming
Database (re)design
Process mapping
Flowcharts

Miro
Miro is a beautiful and functional visual collaboration tool with a growing collection of official and user-contributed templates for just about any type of virtual meet-up. From brainstorming and strategy sessions to after-action reviews, it's a great way to lead engaging discussions and have pretty artifacts to show off instantly when you're done. It's also a pretty handy diagramming tool that supports a variety of add-ons and integrations for different image types (they even have a logo finder!) and other whiteboard elements.
How to use it for digital transformation
Strategy and project planning brainstorms
Visual wireframes
Learning and reflection sessions
System abstracts (more visual than technical)

Notion
Notion is the Swiss Army knife of digital tools. Need to build a database by tomorrow? No problem. Create a collaborative knowledge base or wiki? Yep.

There are literally endless use cases to support here. And that may be your biggest challenge with Notion. Figuring our what–and what not–to use it for. It also integrates with a ton of popular apps, making it easy to embed content from a variety of sources as a live view from within a Notion page.

Warning: this tool may be habit-forming!
How to use it for digital transformation
System training and support hubs
Project management
Internal communication
System roadmaps

PowerPoint
You might be thinking 1999 called and wants its tech back. Yeah, we know. Laugh all you want. But PowerPoint is here to stay.

Google Slides has its merits but PowerPoint just keeps showing up to the party. It's a powerhouse for presenting that has no equal. At least not yet. So when you want to crush that next executive briefing or user training session, leave it to your old friend PPT.
How to use it for digital transformation
User training
Team updates
All-staff presentations
User self-service guides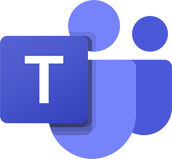 Slack and Teams
Digital transformation is complex, crosscutting, and collaborative. This requires an intense amount of real-time communication and content sharing. Both Slack and Teams are equipped to handle this massive throughput while providing the flexibility to divvy up conversations into manageable packets. The beauty of having separate channels (and teams) by topic or group, aside from keeping things organized, is that it allows you to tune your notification settings according to what matters most at any given time.

Teams has the added benefit of being an all-in-one solution for video conferencing but both support one-to-one video and audio chat. Which is a great thing now that few of us are just down the hall.
How to use it for digital transformation
Team communication
System user groups
Stakeholder interviews
Staff announcements
Virtual meetings
Content collaboration


SurveyMonkey and Typeform
Think about the people who will ultimately benefit from your digital transformation effort, whether they be employees, customers, partners, or all of the above. While it's important to hear from many of them during your early discovery and learning phases, the act of listening should be a mainstay of your digital transformation strategy for the long haul. Surveys are a great way to stay in regular contact with people and get their (mostly) unbiased feedback on what they like, and don't, about the changes they are experiencing.

SurveyMonkey and Typeform are two of the best, but certainly not the only, options when it comes to tools that are easy to design, deploy and analyze. Typeform really excels at a more modern user interface that may be slightly better for external-facing, marketing-style surveys. SurveyMonkey has been around forever and has it all when it comes to features, as long as you're willing to pay for them.
How to use it for digital transformation
User discovery
User feedback
Innovation campaigns
System assessments
Annual surveys
Now There's Nothing To Slow You Down...Except
Now that you have your arsenal of best-in-class digital transformation tools, nothing will slow you down. Well, aside from that integration that's going to cost 3x what you budgeted and the new COO who wants to put a pause on the whole effort while they "take stock of the situation." But hey, that's life in the big digital transformation city!